For landowner information, visit the University of Minnesota's interactive plat maps of Sherburne County for - 1903 - 1916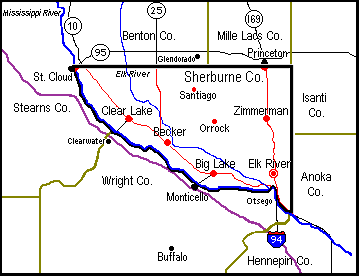 Sherburne is bordered on the north by Benton and Mille Lacs Counties, on the east by Isanti and Anoka Counties and on the west by Stearns County. It shares its southern border, defined by the Mississippi River, with Wright County.
Sherburne's cities include Elk River, the county seat, Becker, Big Lake, Clear Lake, Orrock, Santiago, Zimmerman and parts of St. Cloud and Princeton. Some of these names have changed, and others have disappeared from since 1895..
With a total area of 431 square miles, the county ranks 78th in size in the state.
At the 1990 US Census, the county had a population of 41,945. In 2010, its population was 88,499. Its proximity to the I-94 corridor between Minneapolis and St. Cloud helps make it now one of the fastest growing counties in the state.
Townships Old and New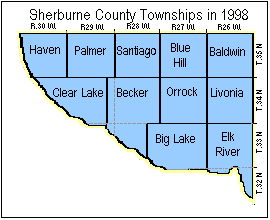 The county consists of ten townships and the City of Elk River, formerly Elk River Township. Most of the townships are squares measuring six miles by six miles.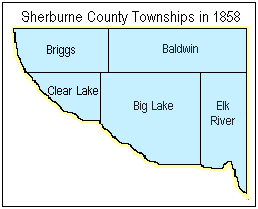 In 1858, the county consisted of five original townships, which were split over the next 20 years into 11 townships. All of Elk River Township now is within the city of Elk River.
Each of Sherburne County's townships is divided into sections 1 mile x 1 mile. Most townships have 36 sections, all within the same range and township. Note that Big Lake, Becker and Elk River are larger, including sections from an adjoining range or township. Sections within a defined range and township are numbered thusly:
| | | | | | |
| --- | --- | --- | --- | --- | --- |
| 6 | 5 | 4 | 3 | 2 | 1 |
| 7 | 8 | 9 | 10 | 11 | 12 |
| 18 | 17 | 16 | 15 | 14 | 13 |
| 19 | 20 | 21 | 22 | 23 | 24 |
| 30 | 29 | 28 | 27 | 26 | 25 |
| 31 | 32 | 33 | 34 | 35 | 36 |
| Township | Locations - year organized, incorporated, and area common names |
| --- | --- |
| Baldwin | Organized in 1858, Princeton |
| Becker | Split from Big Lake Twp. in 1871, Becker |
| Big Lake | Organized in 1858, Big Lake (Humbolt), Bailey Station |
| Blue Hill | Formerly center third of original Baldwin Twp. Organized in 1877. |
| Clear Lake | Organized in 1858, Clear Lake |
| Elk River | Organized in 1858, Elk River (Quincy)(Orono). In 1996, all township land was annexed to the city. |
| Haven | Split from Palmer Twp. in 1872, East St. Cloud, Briggs, Cable Station, Haven Station |
| Livonia | Split from Elk River Twp. in 1866, Zimmerman (Lake Fremont) |
| Orrock | Originally the north half of Big Lake Twp. Organized in 1875. Orrock |
| Palmer | Organized in 1858 as Briggs Twp., then Clinton Lake Twp. Briggs |
| Santiago | West third of original Baldwin; organized in 1868, Santiago |