Research families in Sherburne County, connect with other researchers and those lost family members. Locate county townships, cities, and cemeteries. This site can be a beginning to answer some of those basic questions. And see how you can make genealogical resources even better!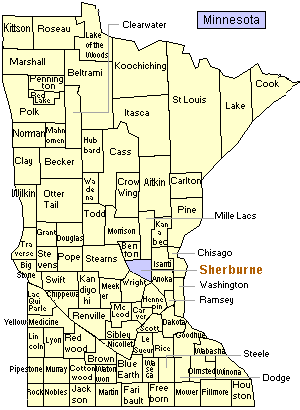 Sherburne County History
Minnesota was organized as a territory in 1849 and seven years later, on February 25, 1856, the Territorial Legislature set the current County boundaries apart from Benton County. Sparsely populated in its early years, the county nearly tripled, from 723 to 2050, in the decade after 1860.
The county takes its name from Moses Sherburne, an Associate Justice of the Supreme Court of the Minnesota Territory from 1853 to 1857. The county seat, first located in Big Lake, was moved to Elk River in 1865.
The first five areas of settlement in the county were at Elk River-Orono, Bailey's Station, and Big Lake in the southeast corner, and in Clear Lake and Haven Townships in the west.
The county's first two buildings were constructed in 1846, both to service traffic on the Red River Ox Cart Trail that paralleled the Mississippi River. Joseph Jerome built a tavern near the river in Haven Township, and David Faribault opened a trading post at the confluence of the Elk with the Mississippi.
Map, Townships ~ Records ~ Ask-Share ~ Links
---
The MNGenWeb Project coordinates genealogical links in each of the state's counties. It is affiliated with USGenWeb, which is an outgrowth of a Kentucky project designed to link and store all databases useful for genealogical research.

You can help! USGenWeb Project and MNGenWeb provide FREE information for your research. Their searchable archives depend entirely on volunteers to transcribe records and documents, and donate files. Contributions by folks like you make this project grow. If you have documents- big or small- that would help other researchers, please submit them to me or the MNGenWeb Archives Coordinator. We can accept anything in the public domain, anything published before 1921 and items published after 1921 with the author's written permission. The USGenWeb Archives gives more information.
I'm Ann Hammer, the volunteer coordinator for MNGenWeb's Sherburne County. If you have suggestions or wish to contribute information to this site, please contact me.
---
sherbumn at gmail.com / latest update June 2020